Ferris Bueller taught me that sometimes, you just need a day off. 
2nd draft of the Thing hit the 30k mark this evening.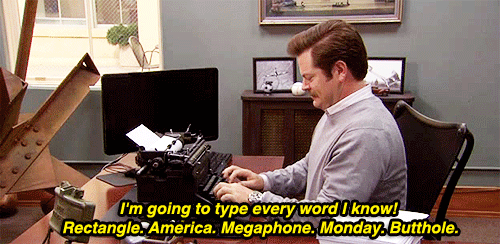 Words. Write the words. Write the words that follow these words. Words.
samuraiwordsmith replied to your link
"1 Million Net Neutrality Comments Filed, But Will They Matter?"
I wouldn't worry too much about it. The shitstorm that we'll see in this country if NN goes down will be unbelievable given the huge public response. Fuckery was easier to get away with in 2004.
I wish I believed this too but even if the public did respond, I don't think it would change the internet providers ability to charge for their service. The c
ountry recently had a moment of response with the 99% thing and in the end politics and money still turned a conversation about the wage gap into a culture war narrative. Maybe I'm just cynical. I hope you're right. 
"Being published is not a necessary validation or a path everyone wants to take with their work. Writing—and finishing—a novel is a great thing in itself, whether or not the book is published, or becomes widely-read or not."
— Garth Nix, on the best ways to create. (via lettersandlight)
I JUST REALIZED SOMETHING

IN THE MUSICAL EPISODE OF SUPERNATURAL

DEAN WILL STILL BE A DEMON

A

DANCING

DEMON

(x)
200th episode will have musical elements! [X]
(via perksofbeingafallenangel)
"The orioles, swifts and warblers aren't just the same species the women saw back in their home countries, but the very same birds."